If January 4, 2014, the day CEO Kenzo Tsujimoto called Takeuchi, is considered the day RE7 was born, then one can say that development began in earnest in April of that same year. After creating the concept image movie and getting it approved by management, a large number of team members were assigned to RE7's development. There were now around 50 team members, and development was officially underway.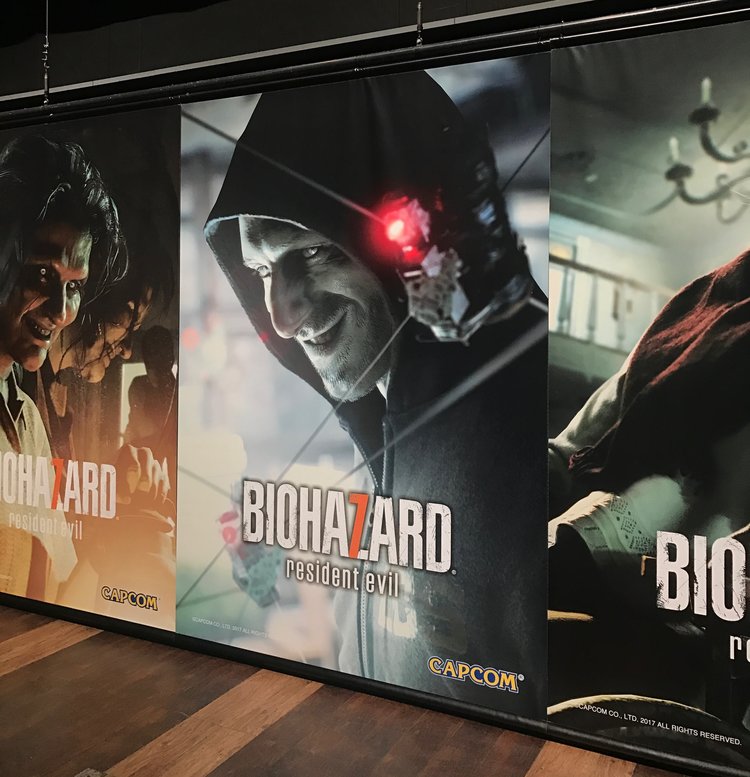 As the scale of development for a game grows, the importance of a Project Manager who is able to manage "many staff" and "a long-term development cycle" grows as well. It is the responsibility of the manager to ensure the team operates properly. Makoto Kadono, whom we discussed in File 03, was the only Project Manager in April 2014, but afterwards, a section known as the "P.M.O." (Project Management Office) was added to the RE7 team. There were multiple Project Managers, and they were tasked with managing people and schedules, and solving issues that may arise. Of course, it was Kadono that ended up putting the P.M.O. together.
There are other things about Kadono I would like to talk about. He joined Capcom around 20 years ago as a Programmer and was involved in many games since then. Year after year, the capabilities of game systems become more and more advanced, leading to expansions in the scale of game development. This has allowed him to experience for himself the various types of problems that arise. Also, he understood very early on the importance of a Project Manager as a solution to these issues, learned techniques on his own and searched for answers to problems. He has acted as a Project Manager for multiple projects since 2008 and has been in a position to practice this line of work.
So, what are the types of problems that occur as the scale of development increases? In the realm of "product creation," it is easy for things to become chaotic during the final stage of production. If a long period of time is spent making one product, then one's confidence might get shaken and someone may ask the question, "Is what I am making actually good?" Games that take years to develop are a good example of that. As deadlines approach, people work very hard and think deeply about how to "make something better." However, the amount of time remaining is limited. I only want to put this element in; or that element should be cut, but would it be interesting to do that? Is there merit to putting in more manpower towards this element? It is not that someone on the team is lazy, but as people strive to "make something better" in the face of looming deadlines that can barely be met, development eventually devolves into a chaotic situation.
During the actual final stage of development for a certain large-scale project, Kadono, who had been working as a Programmer, was assigned the role of Project Manager. The chaos of the project could not be extinguished during development, but it was eventually completed and became a big hit. That was the opportunity that allowed Kadono to become a project fixer, and he would go on to be thrust into other projects that were experiencing chaos.
The role of the Project Manager is to measure the amount of tasks and available timeline, and to have an eye for identifying what is truly important, as well as assess the situation and reallocate staff members as necessary. If Kadono does not prioritize carefully and effectively, then even the greatest idea in the world will be mercilessly thrown out. Also, staff would have to be allocated to the elements that are truly necessary and effective.
Takeuchi, the leader of the development team, knew that a Project Manager like Kadono was indispensable to the development of a major and large-scale game like Resident Evil 7. Therefore, when recruiting the initial core members of the team, he went straight to Kadono and made him the Deputy Team Leader for Production Studio 1.
So, with Kadono as Project Manager, how did the development of RE7 turn out? A considerable amount of time has passed since the release of the previous entry, RE6 (4 years as of the time of this writing), so there are probably many people who think RE7's development has encountered difficulties. The truth is that the development of RE7 had unmistakably been plagued with trouble until Tsujimoto asked Takeuchi, "Will you fix it?" However, after the current RE7 team got moving along in earnest, the team was able to create a Beta version (a software version that contains the main elements of the game) in around 2.5 years. This is in spite of the fact that they developed a new engine at the same time and employed techniques and technology that they had not used before. While taking on high level challenges, they were able to make something of quality suitable for the next numbered Resident Evil game despite the finite development time they had.
The concept and direction of RE7 differ greatly from the previous installments. Also, for Production Studio 1, this was their first time developing a Triple-A game for next-generation hardware. A new concept, new hardware, a new engine, a newly assembled team. It is said that many video games that contain more than two "new" elements often end up with results that are not good. However, the RE7 development team splendidly accomplished what they set out to do. Of course, this achievement is not Kadono's alone. I want to shed more light on Kadono's aspects that every single team member, particularly Kawata, the Producer in charge of managing the development budget, respects.
So, in concrete terms, how did the development of RE7 itself progress? I would like to discuss this in the next section.
Related items