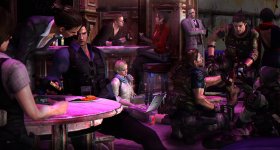 This game turned 10 years old on October 2nd! I have to say this is one of the most underappreciated titles in the series. It has a steeper learning curve than other games but it was the most ambitious take on an interwoven RE story that was interactive. This was Shotaro Suga's swan song for the series before his unfortunate passing. People didn't like its QTE's and militaristic themes but there were so many different types of enemies and set pieces, it took many years for people to come around to it.
I have a complicated history with this game but I hope Capcom will give a project this big a chance again. The character drama really pushed the acting of the series forward into a more mature direction, which many fail to realize. This was the epitome of the action style of RE that many fans still appreciate despite the constant negativity surrounding it. This game also had a ton of fanservice.
So happy 10th anniversary RE6! Will probably see you in my next marathon!
Last edited: