At GDC 2018 in San Francisco, I met Capcom R&D1 studio member and Producer of Resident Evil Revelations 2, Michiteru Okabe. We spent some time chatting about Biohazard (in Japanese) over drinks, and it was interesting to gain some insight as to what his thoughts on the series are. The meeting took place on March 22, 2018, which was incidentally the 22nd anniversary of the series. What's even more hilarious is that I happened to ask him to sign a copy of Revelations 2 on PS4 for me at 22:22 (10:22PM)! Sometimes the stars align and interesting coincidences occur.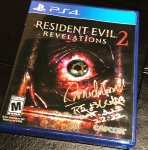 While I can't recap everything we talked about in detail, some of the cool things we discussed were:
- Barry, Claire and Moira's roles in Revelations 2
- Characters we'd love to see in possible future games; I told him Jill is overdue for a game!
- My thoughts on what made Revelations 2 a unique experience in the series; for me, the cast and setting defined the experience nicely
- Our thoughts on the recent Switch port; I told him how great it was to have the full game on the go at last
It was definitely one of the more unique conversations I've had with the Biohazard team over the years. Not only is he very friendly and easy to speak to, he is also proficient in English. If you ever see him, don't hesitate to say hello to Okabe-san!