I would just love to return for a second to the old topic of why the words "this is not a remake, but a reimagining" are complete bullshit and nothing more than semantic manipulation.

Quote from the official website of

R

esident

E

vil 4:

"Resident Evil 4 is a

remake

of the 2005 original Resident Evil 4. Reimagined for 2023 to bring state-of-the-art survival horror."

And also another quote: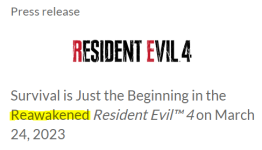 As you can see, it's just semantics that people in the community make a big thing out of.
If we give 50 studios a task to make a remake of one game, we will get 50 different remakes, because there are
countless
ways to recreate the original content. This is what the word "remake" is for. Remaking something old from scratch. How we do it doesn't matter for the definition.
We can copy the old content frame by frame and call it a "remanufacturing". We can reimagine the game and call it a "reimagining". We can just throw shit on something old and call it a "reshitting." But in any case, we are doing something new on the foundation of the old, and everyone will go crazy if they come up with a term for each of the
endless
approaches to how to remake things.
Even RE:2 and RE:3 differed in how they remade the original games.
Seriously, this is getting old.
Last edited: