This was posted with the Collector Edition, a map showing the Village and the Castle.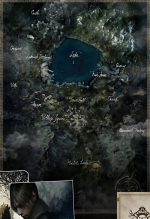 The stuff that stood out:
The Quarry: Is it not the location you enter after meeting with the Merchant and acquiring the sniper rifle?
Fish Farm: It seems like it's that swamp place with all the TNT
The Hunter's lodge, Village, Farm, and Church are well known and are in the same place.
Villa: Not sure... Is it not chief Mendez house? If so, then did the position change?
Lakeside settlement: I don't know what this is? I only remember a small hut near the lake.
Abandoned Factory: Is this supposed to be new? Because I don't remember a factory in the village section.
The Castle: I can't tell if it's the same layout, but I remember the Cathedral where the giant Salazar statue was in, and it was connected to the main castle through a massive bridge, I don't see such a bridge here, but the map is cut off at the top of the castle so there may be a continuation.