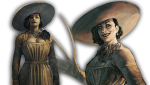 PC? Next-gen Console? Last-gen Console? Controller? KBM? 60FPS? Uncapped? 16:9? 21:9? 32:9?
As we get more advanced within the gaming world, our options and preferences continue to grow. Interested to hear how my fellow series faithful plan to tackle the latest entry on release day.
I was on the fence between playing on an OLED or monitor for my first go, though ultimately decided on PC on a 21:9 ultra wide using KBM. Being a first person game especially, it should feel pretty native. RE7 had disappointing PC options compared to RE:2/3, though I can see RE8 being the best of the bunch all things considered.