(If you didn't read the news about Resident Evil 3 (remake) allowing Nemesis to enter even into the safe rooms, you can read the original story from the Official Xbox Magazine.)
This news have been corrected, since the writer of that article mistook the room as a safe room.
READ THE ORIGINAL AND WHOLE STORY AT
GAMESRADAR.COM
"
Capcom has confirmed that - despite early reports - the Nemesis will definitely not be able to enter Resident Evil 3's designated safe rooms, and we're all breathing a collective sigh of relief. The big bad of Resident Evil 3 is certainly relentless, and unlike Mr X can and will break down doors in his pursuit of Jill, but thankfully certain areas are still off-limits to the big bully.
"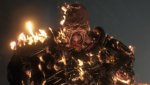 (sources:
gamesradar.com,
Official Xbox Magazine
,
Twitter
)