READ THE WHOLE STORY:
wegotthiscovered.com
(
You might wanna take that article with a huge grain of salt, because I didn't find any sources, other than "according to our source", in the end of the article)
"
Claire will be the lead character in the new film. She'll have grown up in an orphanage with her brother Chris in Raccoon City where children often go missing. Years later, when she tries to convince Chris, who's now a cop, to leave the city, a zombie outbreak occurs and they soon realize that the children that went missing were experimented on."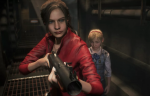 (source:
www.wegotthiscovered.com
)